Where Have All the Houses Gone?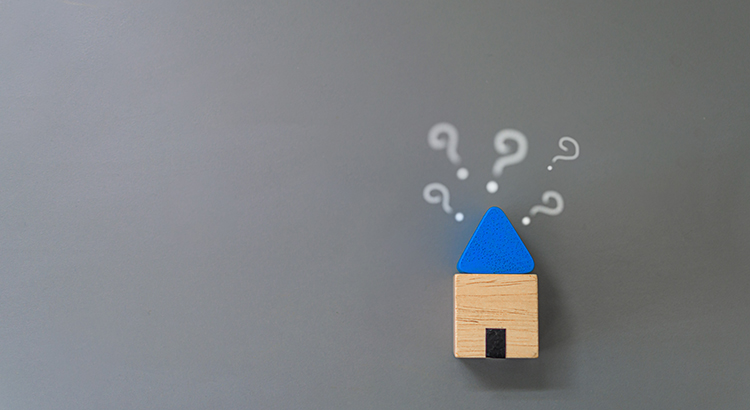 In today's housing market, it seems harder than ever to find a home to buy. Before the health crisis hit us a year ago, there was already a shortage of homes for sale. When many homeowners delayed their plans to sell at the same time that more buyers aimed to take advantage of record-low mortgage rates and purchase a home, housing inventory dropped even further. Experts consider this to be the biggest challenge facing an otherwise hot market while buyers continue to compete for homes. As Danielle Hale, Chief Economist at realtor.com, explains:
"With buyers active in the market and seller participation lagging, homes are selling quickly and the total number available for sale at any point in time continues to drop lower. In January as a whole, the number of for sale homes dropped below 600,000."
Every month, realtor.com releases new data showing the year-over-year change in inventory of existing homes for sale. As you can see in the map below, nationwide, inventory is 42.6% lower than it was at this time last year: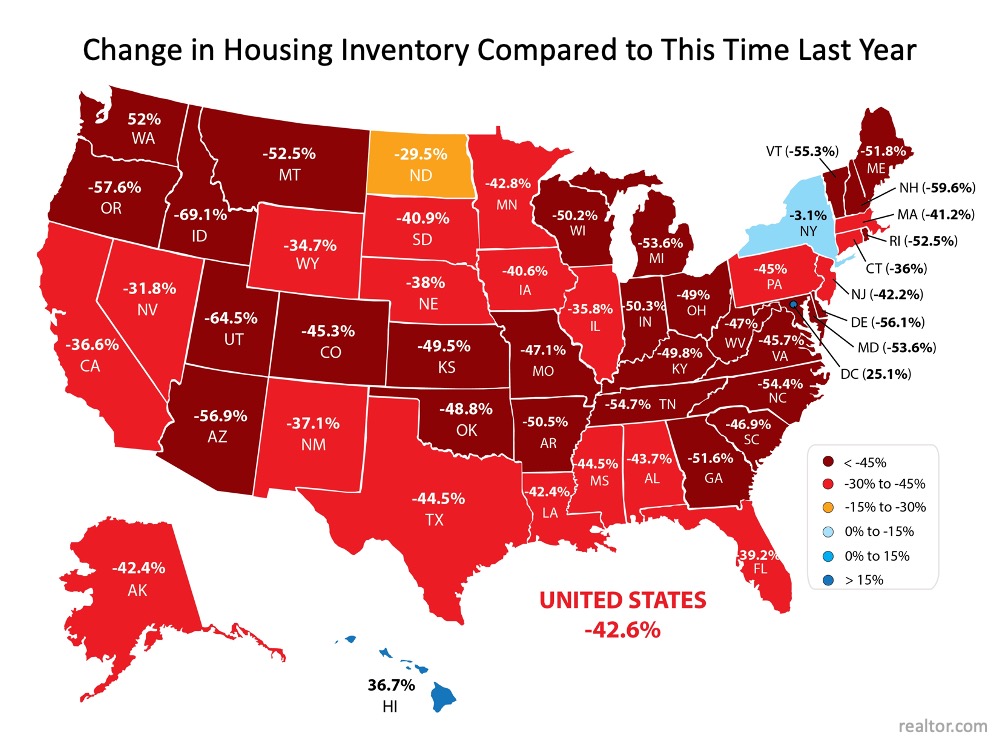 Does this mean houses aren't being put on the market for sale?
Not exactly. While there are fewer existing homes being listed right now, many homes are simply selling faster than they're being counted as current inventory. The market is that competitive! It's like when everyone was trying to find toilet paper to buy last spring and it was flying off the shelves faster than it could be stocked in the stores. That's what's happening in the housing market: homes are being listed for sale, but not at a rate that can keep up with heavy demand from competitive buyers.
In the same realtor.com report, Hale explains:
"Time on the market was 10 days faster than last year meaning that buyers still have to make decisions quickly in order to be successful. Today's buyers have many tools to help them do that, including the ability to be notified as soon as homes meeting their search criteria hit the market. By tailoring search and notifications to the homes that are a solid match, buyers can act quickly and compete successfully in this faster-paced housing market."
The Good News for Homeowners
The health crisis has been a major reason why potential sellers have held off this long, but as vaccines become more widely available, homeowners will start making their moves. Ali Wolf, Chief Economist at Zonda, confirms:
"Some people will feel comfortable listing their home during the first half of 2021. Others will want to wait until the vaccines are widely distributed."
With more homeowners getting ready to sell later this year, putting your house on the market sooner rather than later is the best way to make sure your listing shines brighter than the rest.
When you're ready to sell your house, you'll likely want it to sell as quickly as possible, for the best price, and with little to no hassle. If you're looking for these selling conditions, you'll find them in today's market. When demand is high and inventory is low, sellers have the ability to create optimal terms and timelines for the sale, making now an exceptional time to move.
Bottom Line
Today's housing market is a big win for sellers, but these conditions won't last forever. If you're in a position to sell your house now, you may not want to wait for your neighbors to do the same. Let's connect to discuss how to sell your house safely so you're able to benefit from today's high demand and low inventory.
DUE TO COVID-19 AND TO KEEP EVERYONE SAFE
[soliloquy slug="doing-business-differently-during-covid19″]
---
Make a Game Plan:
Designate one person to be your errand-runner to limit your outside exposures

Set up a disinfecting station — an area outside your home or in a room with low foot traffic where you can disinfect packaged food
When You're Out:
Avoid coming within less than six feet of others

Wipe handles on carts or baskets while shopping

You don't have to have gloves or a mask — just wash your hands frequently while you're out and avoid touching your face
When You Get Back:
Wash your hands

with soap and water for 20 seconds

Disinfect takeout boxes and packaged foods at your disinfecting station

Thoroughly wash produce before putting it in your kitchen
Disinfect:
Disinfect everything you touch — doorknobs, light switches, keys, phone, keyboards, remotes, etc.

Use

EPA-approved disinfectants

(these include Clorox Disinfecting Wipes and certain Lysol sprays) and leave surfaces wet for 3-5 minutes
Deliveries:
Ask workers to drop deliveries off on your doorstep or an area of your complex

If they need you to come to the door, keep six feet of distance

Pay and tip online when possible

After you pick up mail from your mailbox, wash your hands
Laundry:
Wash clothes, towels and linens regularly on the warmest setting

Disinfect your laundry hamper, too, or place a removable liner inside it

Don't shake dirty laundry to avoid dispersing the virus in the air
Guests:
You shouldn't allow guests over right now

If you need to house a family member or friend, avoid shared living spaces as much as you can

If they need to enter shared living spaces, ask them to keep six feet of distance
If Someone In Your Home Gets Sick:
First, consult your doctor

Isolate them in another room and ask them to use a separate restroom

Disinfect frequently touched surfaces every day

Avoid sharing items with them

Wear gloves when washing their laundry

Continue to wash your hands frequently

Ask them to wear a face mask if they have one
Pets:
Supervise your pet in your backyard, if possible

It's

OK to play with them

outside — just keep your distance from other humans

If you're sick, ask someone you live with to take care of them while you recover

If you must care for them while you're sick, wash your hands frequently
Supplies You'll Need:
❑ EPA-approved disinfectants
If you don't have disinfectants, make a bleach solution:
Mix four teaspoons bleach per quart of water or,

Use a 70% alcohol solution
❑ Laundry detergent
❑ Trash bags
❑ Prescription medicines (you can mail order these)
❑ Canned foods — fruits, veggies, beans
❑ Dry goods — breads, pastas, nut butters
❑ Frozen foods — meats, veggies, fruits
---
We are living in unprecedented times and are acutely aware of the impact that the COVID -19 is already having on our communities.
If you have any concerns or questions about how this will impact the market, please reach out to me for a discussion.
Jaime Gonzalez
Broker | DRE #01126649
(650) 306-1310
jaime@gonzalezprops.com
---